Wheelchair Cosy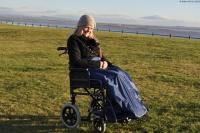 The Wheelchair Cosy provides warmth and protection from the rain.

The cosy is totally waterproof and the smart navy fur lining retains heat, keeping you warm whatever the weather.

The full length heavy duty zip allows easy access and the cord pull means that you can zip yourself in without having to bend down to the very bottom of the garment.

A tough foot panel prevents scuffing around the base.

Drawstrings around the waist allow you to pull the cosy tightly around you for extra warmth.

The cosy is held in place by elastic loops over the pushing handles, preventing you sliding down the seat.

Available in two sizes, medium and large. 
PR34021