Stairlift for Curved Staircase - Freecurve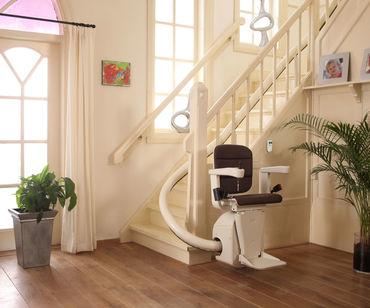 Freecurve
Companion also has a single curved track system in the Freecurve range. This attractive system has a single, tubular rail which allows the stairlift to fit on the narrowest of stairs and navigate the tightest bends. The Freecurve is also uniquely customisable, allowing the stairlift to fit in with any home or décor.
Standard features:
Manual swivel seat

Unique ergonomically designed toggle switch for ease of use

Safety sensors; the stairlift automatically cuts out if it comes into contact with an obstruction

DC power, enabling the stairlift to continue to run for a limited number of trips in the event of a power cut

Includes two handheld remote controls, ideal for multiple users

Slim and stylish single rail design (less than 8cm in diameter)

Choice of Elegance or Classic seat

Choice of upholstery & rail colours

Standard weight limit of 125kg/19.5st
Available options:
Powered folding seat

Powered seat to footrest folding link available

Powered swivel seat

Powered hinged rail; allows the stairlift rail to be folded out of the way to avoid blocking doorways or access at the bottom of the stairs

Active seat, to help the stairlift user rise and sit in complete comfort
To arrange for a quotation or for advice, please call us on 01353 653 753 or email here.