Smart Lifter Boot Hoist - LP Range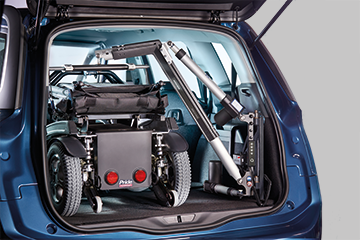 The Smart Lifter is a hoist that enables a mobility device, such as a wheelchair, scooter or powerchair, to be easily and simply lifted into a car boot at the touch of a button. This eliminates the need for the wheelchair/scooter user or family member to struggle with getting the device into a vehicle when wanting to venture further afield.
Within our Smart Lifter range, we have three different hoists that best suit a range of mobility vehicles, from wheelchairs to scooters. Depending on the size and weight of your mobility vehicle, take a look below to find out which of our Smart Lifter's would best suit you when you are choosing a wheelchair or scooter hoist.
125kg, 150kg and 200kg Boot Hoist

Capable of lifting all types of scooters or powerchairs, the Smart Lifter LP range is perfect for users who possess bigger or heavier devices.

With a range of three lifting capacities, 125kgs, 150kgs and 200kgs this is the world's highest capacity vehicle hoist.

This lifter operates completely automatically at the touch of a button and will load your scooter or powerchair in 60 seconds, giving you a simple and easy way to get your vehicle into your car. 
For a quote, call us on 01353 653 753.