Seren - Preloved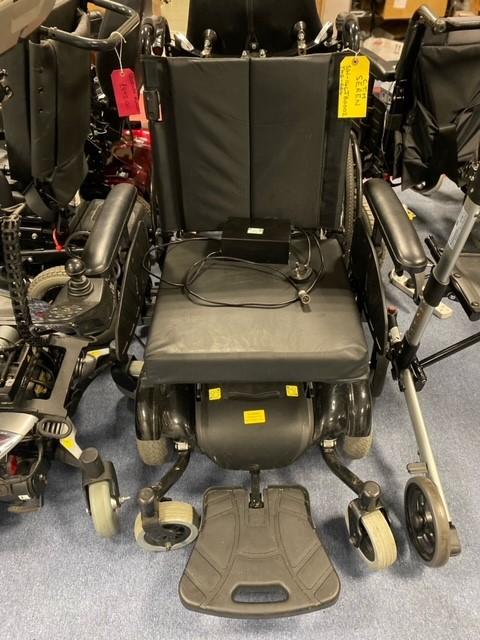 The Seren Power Chair is an electric wheelchair that is suitable for use both indoors and out.
It is designed to be easy to maneuver and agile, and features a front-wheel drive for this purpose.
Front and rear suspension give an excellent ride quality, and the swivel seat makes transfers simple and easy.
To ensure a good fit for each user, the seat height, width and depth, the back width and the armrest height are all adjustable.
A seat belt is included to provide additional security.
The maximum safe user weight of the Seren Power Chair is 136kg (22 stone).

Length: 995mm (39 inches).
Width: 610mm (24 inches).
Height: 1050mm (41 inches).
Front wheel diameter: 155mm (6 inches).
Middle wheel diameter: 260mm (10 inches).
Rear wheel diameter: 155mm (6 inches).
Weight: 80kg (13 stone).
Max speed: 6.4kmph (4mph).
Ground clearance: 85mm (3 inches).
Max safe slope: 6 degrees.
Kerb climbing: 40mm (1 1/2 inches).
Turning radius: 620mm (24 1/2 inches).
Seat width: 420-470mm (16 1/2 - 18 1/2 inches).
Seat depth: 450-500mm (17 3/4 - 19 1/2 inches).
Armrest height: 225-270mm (9 - 10 1/2 inches).
Seat back angle: 100-120 degrees.
Batteries
To have new batteries fitted in any of our pre-loved powerchairs, please ask us for the cost.
Delivery
Due to the weight of the product, an automatic heavy duty delivery charge of £55 is added at the checkout but we would repay some of this if you are near our local areas.
We give a 3 month warranty and 1 month free insurance on all our used powerchairs so you can buy with confidence.