Quickie Tango - Preloved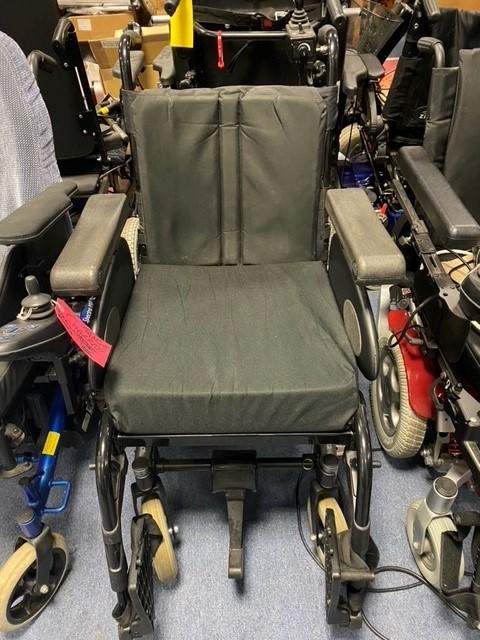 The Quickie Tango Powerchair is both powerful and compact. It is designed to handle constricted indoor spaces with grace and finesse, and has the high performance motors and excellent suspension required for a comfortable, worry-free ride outside.
A Tango power wheelchair has all the excellent features you'd expect from a Quickie product, including a sleek, nimble width from 58cm/23in, low seat height (about 43cm/17in), adjustable seat (15" to 19.5"), a backrest that can be adjusted in both height and angle, but also offers a tilt-in-space mode as standard. This is great news for those who find pressure relief is a priority.
Quickie Tango powerchairs can also be customised with a range of features, from a kerb climber that makes a 4 inch kerb a breeze to a reclining back, elevating leg rests, lights and indicators, and your choice of wheel size. Despite the impressive list of features, the Tango still comes with a very reasonable price tag.
Adjustable Seating.
The Tango features a fully adjustable seating system. The 17" seat can be adjusted outwards (to 19.5") or inwards (to 15"). The backrest height can be adjusted from 18" to 20" and also the back angle (from -3 to 16 degrees).
Optional Comfort Seating.
The optional Pro Comfort seating system is slightly contoured for mild positioning and padded for extra comfort. It also features an easy clean wipe down cover, reducing every-day maintenance.
Articulating Suspension.
The Tango features a new generation of articulating drive wheel suspension that not only ensures traction over rough or uneven ground, but also a smoother, more comfortable ride compared to many other rear wheel drive powered wheelchairs.
Batteries
To have new batteries fitted in any of our pre-loved powerchairs, please ask us for the cost.
Delivery
Due to the weight of the product, an automatic heavy duty delivery charge of £55 is added at the checkout but we would repay some of this if you are near our local areas.
We give a 3 month warranty and 1 month free insurance on all our used powerchairs so you can buy with confidence.