EFOLDi Lite - NEW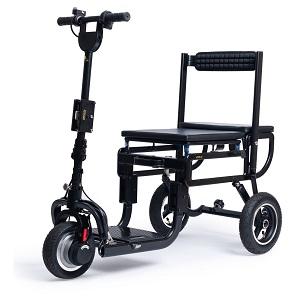 Ultra Lightweight Mobility Scooter
Revolutionary design makes the eFOLDi Lite our lightest, most compact and easy-folding scooter ever made. Weighing only 15kg, it's easily portable and can fit comfortably in a small car or on public transport. Discover all the features of this ultra-lightweight mobility scooter.
The eFOLDi Lite is the worlds lightest, most compact mobility scooter - a revolutionary design using magnesium alloy.
Weighing only 15kg the eFOLDi Lite provides ultra low weight and portability with no compromises on quality.
The eFOLDi Lite will fit snugly into the boot of even the smallest car and can be made smaller still by removing its wheels which simply clip off using a patented design.
A low centre of gravity, pneumatic tyres and an immensely strong and rigid magnesium alloy frame gives strength and stability.
Near silent integrated SuperPower high torque 250 watt motor with digital control and magnetic brakes - climbs 1:6 gradients with ease.
Standard 5 hours charging; Superfast 2 hours charging (optional)
4 point floating seat suspension and pneumatic tyres give a smooth and comfortable ride.
Easy to fold and unfold, easy to drive and fully airline compliant for travel. Easy to lift and stow as it weights only 15kg.
Delivery
Due to the weight of the product, an automatic heavy duty delivery charge of £55 is added at the checkout but we would repay some of this if you are near our local areas.
We give a 1 year warranty and 1 month free insurance on all our new scooters so you can buy with confidence.