Mirage - Pre Loved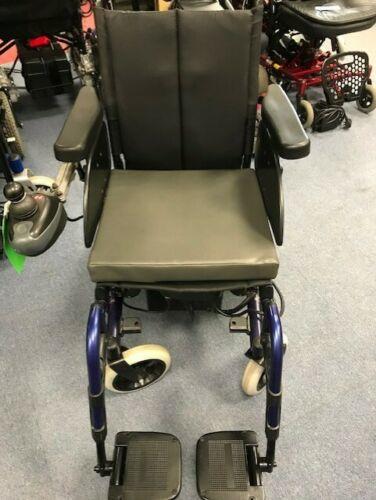 The simple way to mobility. 
The Invacare Mirage is a transportable power wheelchair that provides customers with increased comfort and confidence through its unique balance when driving over uneven surfaces. Its compact design and excellent manoeuvrability gives the Mirage an unrivalled performance indoors. 
Manoeuvrability and Safety 
The Invacare Mirage is a combination of aesthetics and the latest design principles that offer a modern look as well as a safe and stable drive. Manoeuvring the chair is extremely easy and accurate, especially when in compact or confined spaces. 
Adaptable Comfort Mirage is available in four different seat sizes varying from 350 mm to 500 mm. Ergonomic armrests with soft arm pads are adjustable in height, width as well as depth, to suit user needs. Overall seat comfort is provided by an optional padded seat cushion. A seat belt is also provided for added security. 
Powerful mobility, easy transportability 
A combination of stronger motors, a new generation of electronics and perfect balance make the Mirage extremely powerful and stable when climbing obstacles both with or without a kerb rider. The Mirage is very easy to fold for transportation. The split battery boxes simply slide out, avoiding an awkward lifting position. A unique "seat clamping system" rigidizes the chair during driving but releases with ease when folding the chair. If required the backrest can be easily removed by loosening two hand wheels.
We have 4 of these chairs for sale in different colours so please ask us for more information.
Batteries
To have new batteries fitted in any of our pre-loved powerchairs, please ask us for the cost.
Delivery
Due to the weight of the product, an automatic heavy duty delivery charge of £55 is added at the checkout but we would repay some of this if you are near our local areas.
We give a 3 month warranty and 1 month free insurance on all our used powerchairs so you can buy with confidence.
S/N 561