Giant Half-Step - Call for price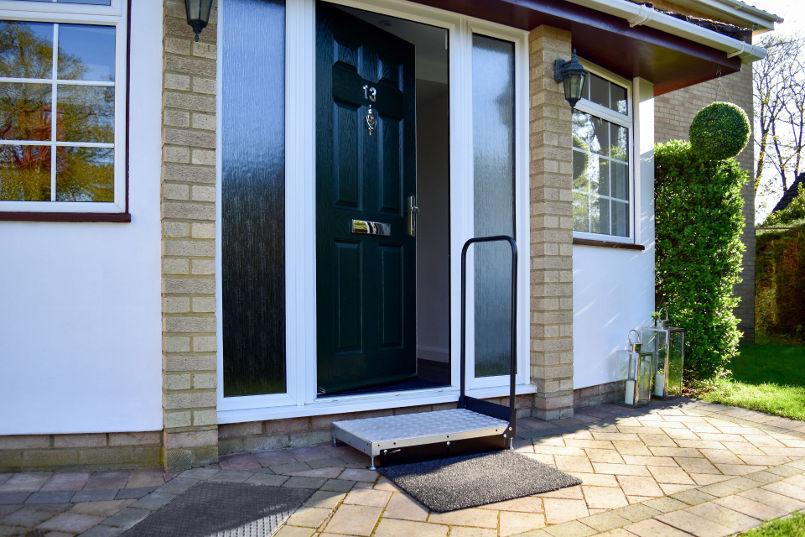 Until now, the traditional half-step simply offered an ambulant user shallower step access. 
The proven and now ALL-NEW Welcome®-Giant Half-Step reaches a new level! 
This totally unique and intelligent range takes into account that people with various walking challenges need more workable solutions. 
To suit all requirements: • Walking stick? If so, the MIDI is perfect! • Walking frame user? Take a look at the LARGE! • Is a rollator being used? The EXTRA-LARGE is the answer! 
1. Safe and Manageable Step Heights 
A single Welcome®-Giant Half-Step will instantly create a safe and manageable step for thresholds up to 30cm (12ins). Add handrails and other accessories as required for the specific user and application. 
2. Eliminate the Trip Risk of Raised Threshold Obstacles 
Unlike any other, the Welcome®-Giant Half-Step can be installed level with the top of the threshold and an optional doorplate accessory used to create a flush transition with no unsafe gaps or 'step-over' obstacle risk. This especially improves access for those with limited leg/knee mobility, drop foot or shuffling gait. The user simply steps up or steps down, rather than risking negotiating up and over the raised threshold. 
3. Instant Safe Handrails 
The multiple benefits of the Welcome®-Giant Half-Step solution include providing safe and instant handrails wherever required. Perfect for situations when attaching permanent grab rails or handrails to a property is not practical. It also removes the risk of falls from leaning over the step to reach a wall fixed grab rail. The doorplate accessory is a great solution for curved or rounded steps. 
What's NEW?
– Join Half-Steps
– Unique Optional Doorplate Accessory
– Height Extension Legs
– Safety Toe Plate
– Three Substantial Sizes
– Integral Safety Kerb with Every Handrail
– Foot options
– Useful Accessory Options – So Easy to Choose and Use!
– Even More User Benefits!
Contact us for a price on 01353 653753 or email sales@fenmobility.com