Padded Toilet Seat with straps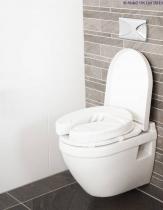 Padded foam toilet seat with washable vinyl white cover, secures with hook and loop straps on underside, provides an ergonomic way of adding comfort to commode and toilet seats. Can be cleaned easily with soapy water or disinfectant. If this product is showing as out of stock (red dot), please note that as we manufacture this product on site it can normally be manufactured and available within 2/3 days of receiving your order. 
Click on the drop down menu below to choose your size options. You can choose between 2" and 4".
PR50646/7